GinnyBins Consultation
Need Help addressing your current design needs? Schedule an in home consultation and get expert 1:1 advice on color, style and placement and leave the measuring to me!
I absolutely am THRILLED….
with Ginny Bins!! I was searching for a "furniture like" kennel that could also help combat my dogs anxiety. Ginny was SO amazing every step of the way and gave me her opinions and worked with me changing my mind and babbling trying to work out what exactly I was looking for. We had a delivery snafu, as I was originally supposed to pick up the kennel and could not. She worked with me and offered no less than 5 solutions and held it for me for almost two weeks until someone could help me get it to my home. I have the kennel in place now and it's PERFECT. My dog has more space, and 2.5 walls are boxed in the way he likes so that he feels safe. 20/10 would recommend to anyone looking for A++++++ customer service and a great product that will be in my home for many years.
- Rachel Ann (GinnyBin Single L)
with our duo-lux custom crate! Virginia is so patient and listens to exactly what you want. Her customer service is impeccable. She worked with me and answered all my question throughout the process. The quality of her works is wonderful. My piece is exactly what I wanted for our two dogs.
-Jaslena R. (GinnyBin Duo L)
with our new duo bin with the optional divider! Love that the divider is an old door Virginia found in Lucketts, VA. Virginia is great to work with and is a perfectionist!
-Ellie M (GinnyBin Duo L)
and custom look of each piece she makes. The bed was stained to match the furniture in our house and she even adjusted the height of the food dish stand for our 'petite' Shih Tzu!
-Karen M (Tiny Daybed/Dining Table)
Virginia's work is beautiful and practical. I am so fortunate to have found someone with such amazing talent!
-Little Oaks Montessori (Custom)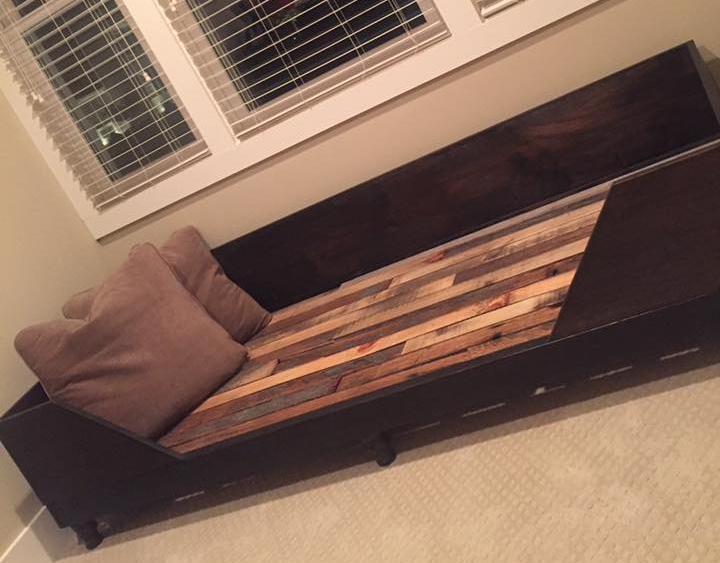 all my expectations. Amazing customer service, quality product, timely production, and gorgeous in my home. Highest recommendation. #ginnybins is the REAL DEAL !!!!
-Ashlee L (Duo DayBed)
GinnyBins
Loudoun County, Virginia